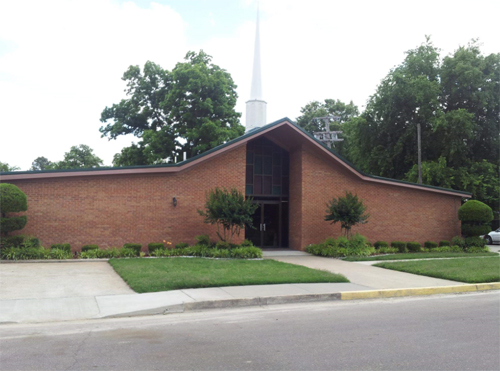 king's temple m.b. church
On Sunday, September 15, 1963, the first service for King Temple Missionary Baptist Church was held in the Chapel of Royal Funeral Home under the direction of Rev. R. L. Drew.  A host of children, Rev. Drew's wife Mrs. Bernice T. Drew, also known as Sis. Daniels, made up the choir and congregation.  Rev. Drew's nephews Rev. Anderson and Anderson along with nephew Rev. O. C. Brand were also in attendance.
Perilous times were prevalent during the early sixties and people who had anything to do with Civil Rights were targeted by those who did not understand.  Therefore, Rev. Drew, along with several Christian believers, and much prayer, decided to form a church where people of all races and different backgrounds would be able to worship God every Sunday.
The Church was founded by God and based on the teachings of Jesus.  Children's Church is what it should have been called, because in the beginning, there were no adults to carry out the duties of the church.  Later in the year, Deacons Christopher McAfee and Scott added their names to the Church roll and performed the duties of Deacons.  Subsequently, the next year, Deacon Monix and Deacon Washington was added.  Then the church grew to a total of seventeen members by the time it was moved to 312 Florida Street, also known as "The Storefront."
It was a glorious day in April, 1968 when the move from the Funeral Chapel to "The Storefront" took place.  Rev. Drew and others had fulfilled a great step and vision.  The church was truly blessed by God.
The Lord saw fit to call Rev. Drew home and void was in the midst of "The Storefront" for a short while because Rev. Drew left us dependent, like babies, for he had handled all of the Church's business.
Many preachers came and left because of the small membership, which were mostly children.  However, on January 17, 1973, Rev. Charles M. Johnson came to us as a child himself, only (25) years of age.  Because we were in need of a leader, young  Sis. Nancy Johnson Forte asked the deacons to give Rev. Charles M. Johnson a chance, and they all agreed.
After preaching that first sermon, the entire body agreed to keep him (Charles M. Johnson) as Pastor.
Thanks be to God, the church began to grow and our young Pastor had new hopes and visions for us.
Under the leadership of Pastor Johnson, a new sanctuary was built in 1981.  Sis Forte's father, Oscar Williams was the first funeral in the new church.  Sis. Mary Taylor Dugan's wedding was the first marriage in the new church.
Pastor Johnson had accomplished great things and the membership continued to grow.
Pastor Johnson was called home to be with the Lord on Saturday, September 1, 2001.  He was truly missed!  We thank God for the time we had with him.
On the third Sunday in November, 2001, Rev. James Jackson Sr. was elected as Pastor of King Temple M. B. Church.  Under his leadership, Minister Bobby Butler served as Assistant Pastor.  In February, 2008, the Charles M. Johnson Fellowship Hall/Children's Church was dedicated under the leadership of Pastor James Jackson Sr.
On the first Sunday in August, 2010, Pastor Jackson resigned from his duties as Pastor, leaving us once again, to seek guidance and spiritual leadership.  Minister Bobby Butler served as Interim Pastor from August 2010, to November 2011.
Rev. Edward S. Thomas, was installed as Pastor on King's Temple on January 22, 2012. His ministry began after deep soul searching.  The church was in agreement and said, "he's the one."!  Under Pastor Thomas' leadership we were a church on the move, once again, from Membership to Discipleship. 
On Sunday August 1, 2021 the Reverend Mark S. Webb was elected as the next Pastor of King's Temple. He began his ministry officially on September 12, 2021. Our church along with the world is recovering from the 2020 pandemic and widespread domestic unrest. Rev. Webb has taken the mantle of leadership and sought to bring the power of the message Christ in order to heal the broken, restore unity, and offer eternal hope to all. We all look forward to what God is going to do as Pastor and people unite to live out the faith by working out our salvation. Doing all this for the glory of God and the benefit on mankind.